Harrisburg Happenings
A report on the Legislative Session Week of May 11, 2020
Dear Friend,
I am pleased to send you my Session Wrap Up e-newsletter. This e-newsletter features events and legislative activities during the Session Week of May 11, 2020.
If you find this e-newsletter useful, I invite you to visit my website www.senatorlaughlin.com for more information about your state government. If you do not wish to receive these e-newsletters, please click the "unsubscribe" button at the bottom of the page. If you would like to contact my office, please go to my web page and click the "contact" button. Please do not "reply" directly to this e-mail.
Sincerely,
Dan Laughlin
---
Senate Approves Bill to Preserve Access to Ventilator Services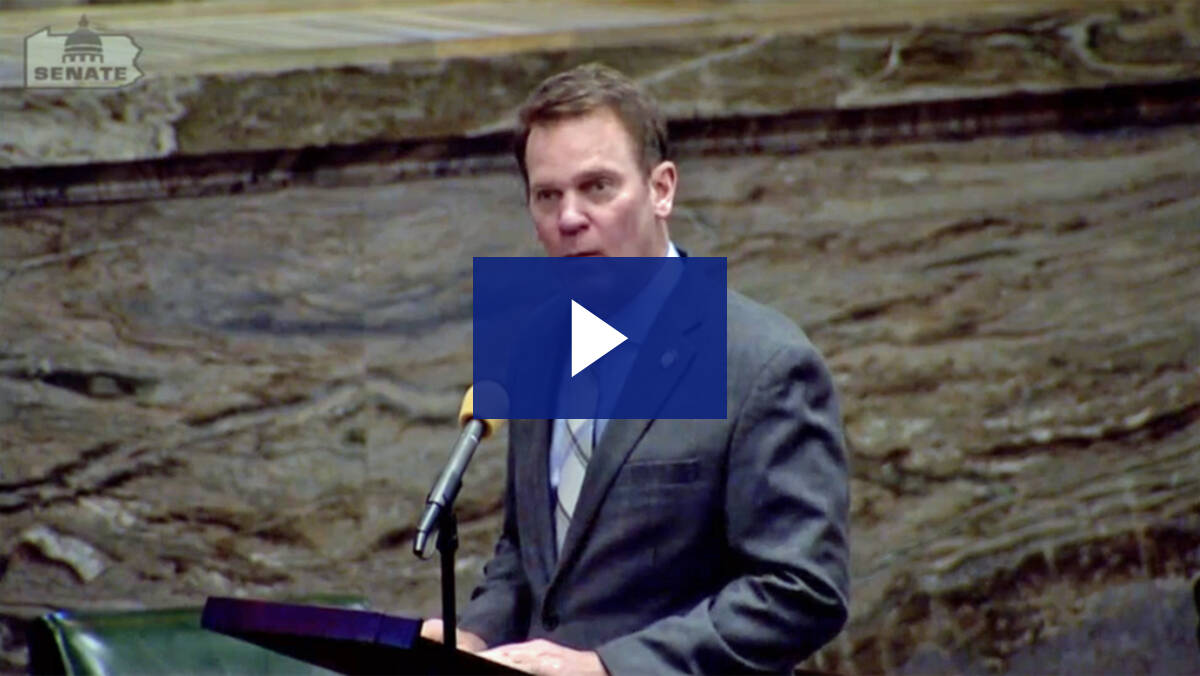 The Senate voted on Monday to preserve access to ventilator and tracheostomy care for hundreds of patients in Pennsylvania. Senate Bill 959 would dedicate additional Medicaid funding to facilities that serve a substantial number of patients who require ventilator or tracheostomy care. Roughly 700 patients in Pennsylvania receive Medicaid-covered ventilator or tracheostomy care in a nursing home in any given month, but that number could climb even higher in the months ahead due to COVID-19. Audio
Medicaid currently does not reimburse providers for all of the additional expenses that ventilator and tracheostomy patients incur, including specialized equipment, supplies and staff costs. Many providers face the prospect of limiting or eliminating services for these patients. One of the largest providers of these services in Pennsylvania filed for bankruptcy even before the COVID-19 pandemic reached Pennsylvania.
Without action to help providers, patients could be forced to travel long distances to one of the dwindling number of nursing homes that offer these services, or receive care in a hospital, where the daily cost of care is roughly four times higher than in a nursing home.
The new reality of a Pennsylvania engaged in a war against COVID-19 has only amplified the need to maintain – if not increase – the availability of ventilator care in the Commonwealth. Each day, the Department of Health COVID-19 update includes a running tally of the percentage of ventilators available to care for those stricken by this deadly virus. No one ever imagined this would be the case last fall when Senate Bill 959 was introduced. However, this pandemic has put an exclamation point on the need to ensure adequate funding is available for ventilator and tracheostomy services in our Commonwealth.
The bill would provide an additional reimbursement for facilities that treat a large percentage of patients who require this highly specialized care. Currently, just 13 facilities in Pennsylvania treat more than 300 of the state's 700 patients who require these services.
The bill was sent to the House of Representatives for consideration.
Senate Passes Bills to Protect Lives, Livelihoods
As the number of positive COVID-19 cases steadily decrease, the Senate approved a four-bill package on Wednesday to give county governments more discretion over reopening their local economies and provide a way for the reopening of some businesses — if they can operate in a manner that protects employees and customers. The package of bills would bring back over 200,000 jobs across the Commonwealth.
During a Wednesday morning joint public hearing of the Senate Aging & Youth and Local Government committees on the safety of vulnerable populations and counties' ability to reopen safely, Dr. Steven Shapiro, Chief Medical and Scientific Officer, and Dr. Donald Yealy, Chair of Emergency Medicine, from UPMC said reopening is feasible for many areas as long as mitigation efforts are maintained and appropriate steps are taken to protect vulnerable populations.
Senate Bill 327 gives county governments the authority to develop plans to develop and implement individual plans to mitigate the spread of COVID-19 and safely reopen their local economies. The bill gives counties the authority to develop plans to reopen industries shuttered by the Governor's statewide closure order, only if they comply with CDC and state Department of Health employee safety guidelines. The bill also includes a COVID-19 emergency regulatory tolling provision that would require any regulation not finally approved or disapproved to be suspended in place until 90 days after the emergency order is lifted. Additionally, the bill creates a COVID-19 cost and recovery task force.
While Senate Bill 327 addresses the Governor's closure order on a county-wide basis, two other bills focus on reopening specific markets and services to meet the demands of consumers – provided that the businesses can adhere to the social distancing practices and other mitigation measures as outlined by the CDC and state Department of Health employee safety guidelines.
House Bill 2388 would require the Department of Community and Economic Development (DCED) to issue waivers to the Governor's Business Closure Order to vehicle dealers, lawn and garden centers, cosmetology salons, barber shops, messenger and agent services, animal grooming services and manufacturing operations. House Bill 2412 provides for waivers for legal services and real estate sales activities.
The fourth bill in the package, House Bill 327, would permit the sale of prepared beverages and mixed drinks for off-premise consumption during the COVID-19 disaster emergency by those possessing a valid restaurant or hotel liquor license.
The measure is intended to provide relief for licensees that have lost more than 25 percent of their average monthly sales, including alcohol sales, as a result of the emergency.
Senate Bill 327, House Bill 2388 and House Bill 2412 now return to the House of Representatives for concurrence on Senate amendments. House Bill 327 goes to the Governor's desk for enactment into law.
Support Package for Nursing Homes, Long-term Care Facilities Approved
The Senate approved a bill on Tuesday that will provide vital funding to nursing homes, personal care facilities and other senior citizens' programs impacted by COVID-19.
Senate Bill 1122 appropriates $507 million from Pennsylvania's share of federal CARES funding to support a variety of programs and services for senior citizens, including nursing homes and long-term care facilities, and $31 million for a one-time grant program for volunteer fire and EMS companies.
Pennsylvania has 700 nursing homes with approximately 80,000 residents, and more than 1,200 licensed personal care homes serving approximately 46,500 residents. The bill was sent to the House of Representatives for consideration. Two additional bills were approved by the Senate this week and sent to the House.
Senate Bill 976 adds Veterans Courts to the list of problem-solving courts that may be established by a court of common pleas and by the Municipal Court of Philadelphia.
Senate Bill 1128 limits the ability of the Commonwealth to suspend a driver's license.
Measure to Aid Senior Citizens Sent to Governor
The Senate approved a bill on Tuesday that would expedite payments from the Property Tax/Rent Rebate Program and create a Senior Tax Reduction Incentive Volunteer Exchange (STRIVE) program.
Under House Bill 1076 , Property Tax Rent Rebate claims could be paid immediately if funds are available. Under current law, claims cannot be paid prior to July 1.
STRIVE would allow school districts to establish a program benefitting taxpayers 60 years or older who provide volunteer service to the school district by granting a reduction in their property taxes. The volunteer services provided by participants in the program may not replace or supplant existing job positions and school districts would be permitted to seek private and public funding sources to support the program.
The bill was sent to the Governor for enactment into law, as was House Bill 1522, a measure approved by the Senate on Wednesday that eliminates the requirement that Junior Firefighters complete DCNR training before they can engage in firefighting activities.
Committee Roundup
Appropriations
In addition to Senate Bill 1128, the Senate Appropriations Committee approved Senate Bill 1148 on Monday. The bill adds federal funding to the Fiscal Year 2019-20 budget.
In addition to House Bill 327, House Bill 1076 and Senate Bill 1122, the Appropriations Committee approved three more bills on Tuesday.
Senate Bill 932 expands the allowable uses for volunteer firefighter relief associations regarding state funding and would allow organizations with paid and volunteer firefighters to use that funding.
Senate Bill 958 amends the Borough Code to state that all electric energy supplied to borough electric systems for sale within borough limits is exempt from the imposition of Pennsylvania's Gross Receipts Tax.
House Bill 1048 eliminates the $700 application surcharge for renewal of liquor licenses by national veterans' organizations and volunteer fire companies.
The Appropriations Committee approved House Bill 2388 and House Bill 2412 on Wednesday.
Community, Economic & Recreational Development
The Senate Community, Economic & Recreational Development Committee approved House Bill 2388 and House Bill 2412 on Monday.
Finance
The Senate Finance Committee approved three bills on Monday.
Senate Bill 1041 clarifies the sales tax exemption for multi-purpose agriculture vehicles.
Senate Bill 1100 exempts CARES Act payments from the definition of "income" for certain programs including: Property Tax/Rent Rebate, PACE/PACENET, childcare subsidies, Medicaid and CHIP.
House Bill 2408 exempts CARES Act payments from state and local income taxes. It also increases the amount that non-profits and charitable trusts can spend on non-charitable purposes from 7 percent to 10 percent during a calendar year in which the Governor's disaster emergency proclamation is in effect and the succeeding calendar year.
Law & Justice
The Senate Law & Justice Committee approved House Bill 327 and House Bill 1048 on Monday.
Rules & Executive Nominations
The Senate Rules & Executive Nominations Committee approved Senate Bill 327 on Wednesday.