In this Update:
Erie City Water Authority Gets $18 Million in PENNVEST Funding
This Week's Hot Jobs in Erie County
Consulate General of Canada Visits with Erie Business Leaders
Enjoying PA's World Class Fall Foliage
Legislative Survey Results: Do You Think Independent or Unaffiliated Voters Should Be Able to Vote in Pennsylvania's Primary Election?
New Survey: Paper Ballots or Electronic Ballots at Your Voting Precinct?
Senate Approves Measures to Help Women at High Risk of Breast Cancer
Other Bills Passed by the Senate this Week
Senate Committee Reviews Legislation to Empower Parents
HARP Helps Hospitality Workers in Need
Cultural and Historical Support Grants Available
Domestic Violence Awareness Month
---
Erie City Water Authority Gets $18 Million in PENNVEST Funding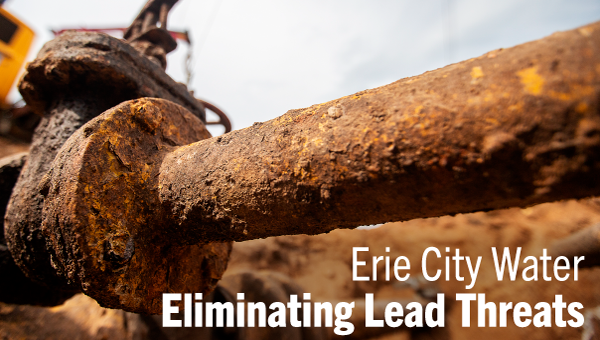 The Pennsylvania Infrastructure Investment Authority (PENNVEST) this past week awarded $18 million in funding to the Erie City Water Authority to replace lead connections throughout the water system.
The Erie City Water Authority, which services 31,748 household in the City of Erie, intends to replace approximately 2,700 service connections consisting of cast iron pipe attached to water mains by lead goosenecks, which are short, curved sections of pipe located between the water main and shut-off valve. The work will encompass associated excavation, backfill and restoration.
We all know the health risks associated with lead, even at low levels of exposure. This project will eliminate the threat to Erie's drinking water posed by these deteriorating and corroding lead connections.
PENNVEST is not supported by the state's General Fund budget, which covers the daily operations and services of the Commonwealth. Financing is provided through the use of federal funding and prior bond issues by the state as well as proceeds from the Marcellus Shale Impact Fee legislation, Act 13 of 2012.
This Week's Hot Jobs in Erie County
Check out Erie County Hot Job listings at PA CareerLink.
For more information on the postings below, type in the job number at https://www.pacareerlink.pa.gov/jponline/.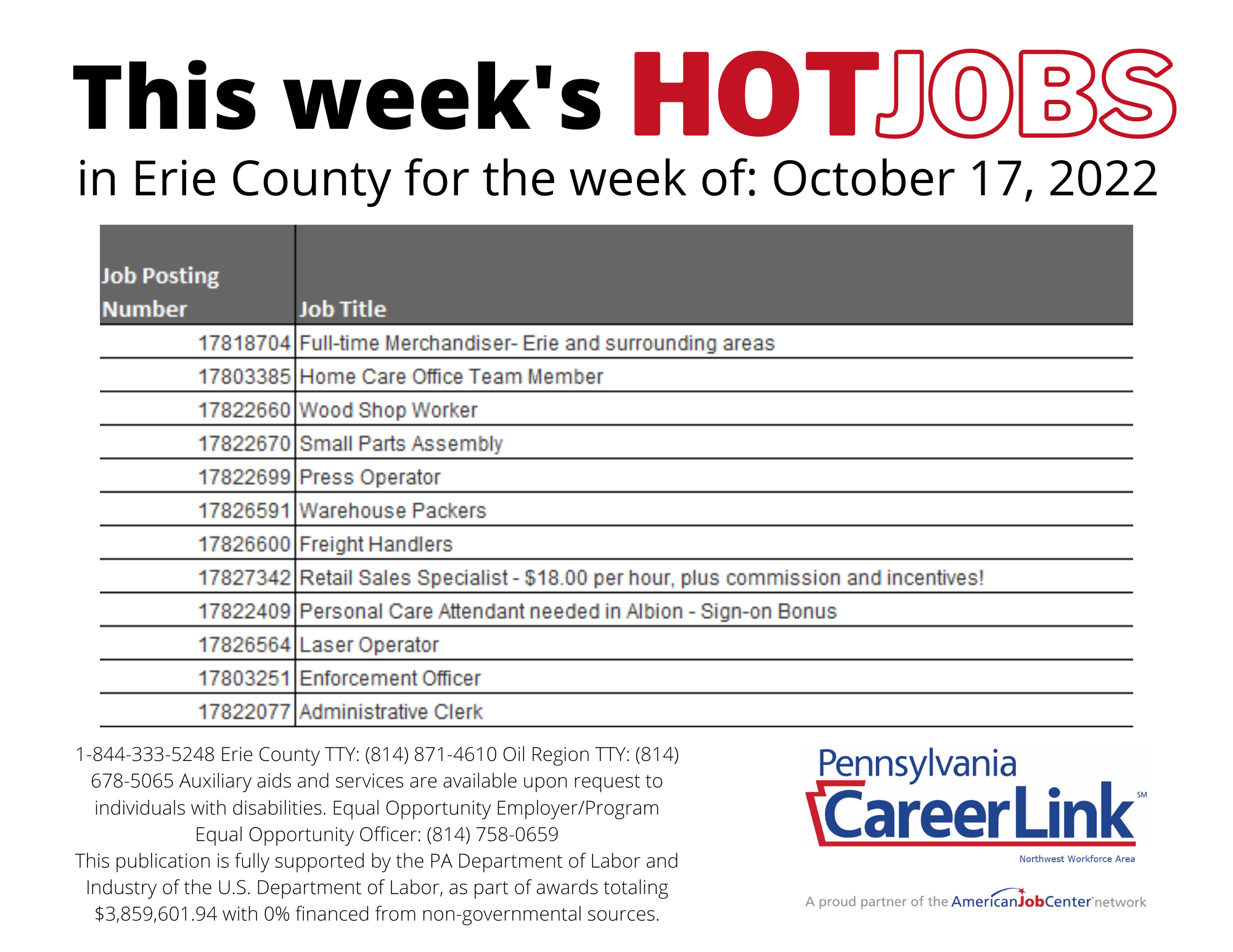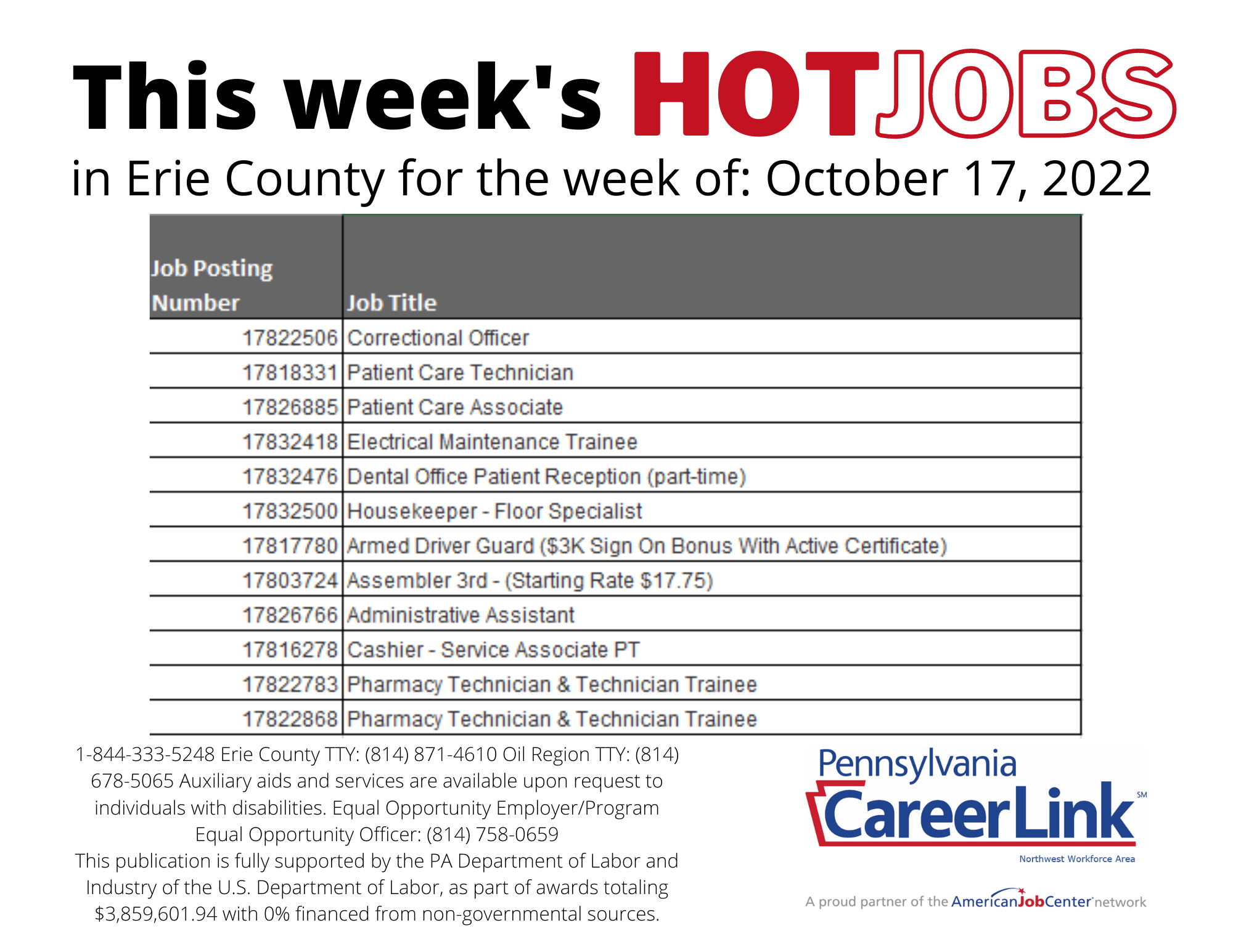 Consulate General of Canada Visits with Erie Business Leaders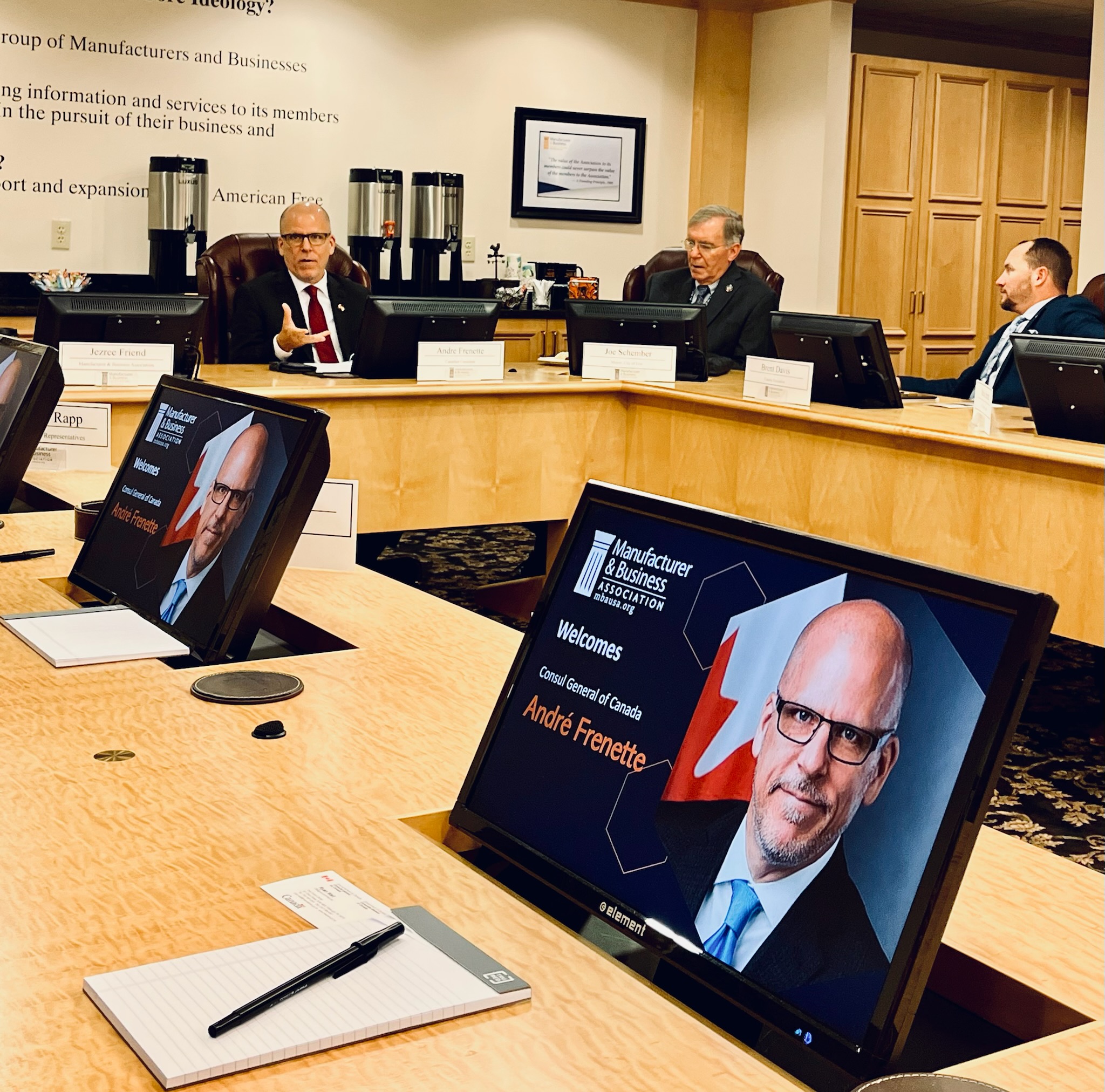 This week a member of my staff attended a group meeting at the Manufactures & Business Association with the Consulate General of Canada in New York, Andre Frenette.
The roundtable discussion was part of the current efforts to grow relationships between Canada and the United States, with Frenette indicating his visit to Pennsylvania is focused on getting a better understanding of the current business environment within the state and its many regions.
There are already over 300 Canadian businesses operating here in Erie County, and Frenette noted that Pennsylvania's top international customer is Canada, with more Pennsylvania products sold to Canada than to China and the UK combined.
Enjoying PA's World Class Fall Foliage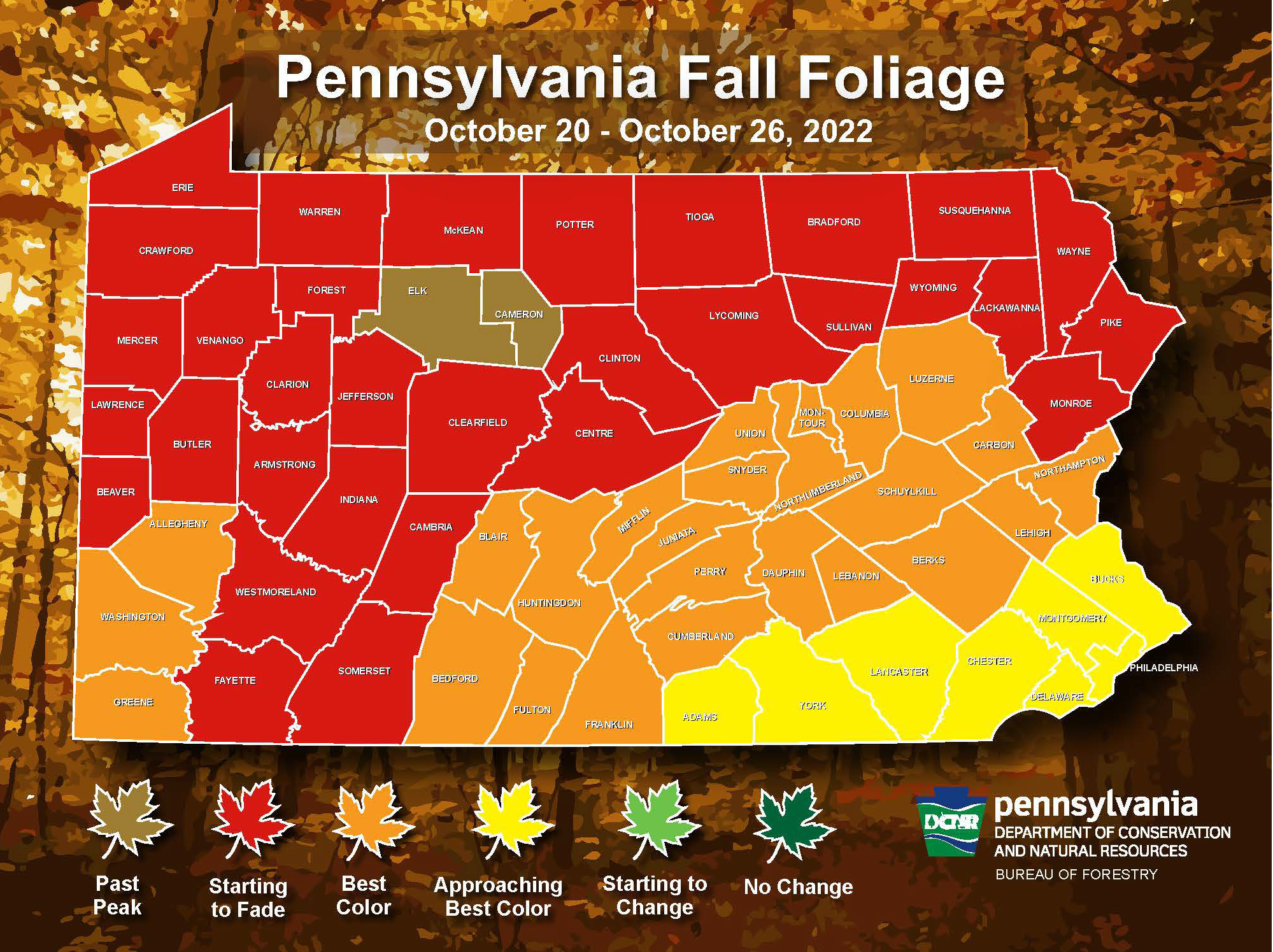 Pennsylvania has a longer and more varied fall foliage season than anywhere in the world, and experts are available to serve as regional advisers, offering tips and resources to help residents and visitors experience a colorful autumn in a variety of ways.
According to the Pennsylvania Department of Conservation and Natural Resources (DCNR), right now, the leaf color in Erie County and its surrounding counties is starting to fade, but there are still opportunities to catch the fall colors, just don't delay. Drives to view the beautiful scenery continue to be Route 62 along the Allegheny River, U.S. Route 6 in the Warren area, and Route 8 from southern Venango into Erie County.
Weekly fall foliage reports can be found online on the DCNR website. The report is updated every Thursday. Fall foliage typically peaks for several weeks throughout October across Pennsylvania. Visitors can get suggestions about the best spots to view fall foliage on the Penn's Woods Fall Foliage story map and on the Pennsylvania Tourism Office website.
Foliage viewers can also check out one of Pennsylvania's 121 state parks and more than 2.2 million acres of state forestland for some of the best views, recreation trails and park experiences. State foresters and park personnel are also available to recommend the best times and locations to experience the beautiful vistas of the season.
Legislative Survey Results: Do You Think Independent or Unaffiliated Voters Should Be Able to Vote in Pennsylvania's Primary Election?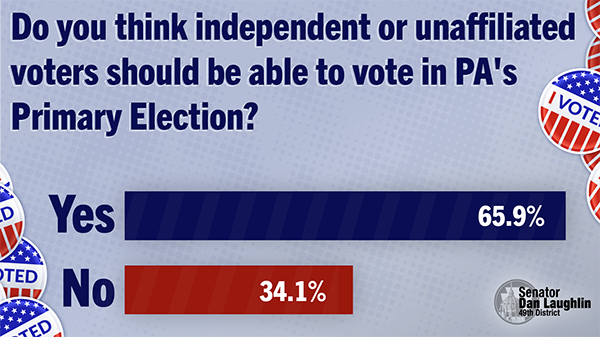 For the past few weeks I've asked you to respond to my survey question about open primary elections in Pennsylvania.
The results are in and nearly 66% of respondents support the idea that independent or unaffiliated voters should be able to vote in Pennsylvania primary elections.
I've been an advocate for making such a change since joining the Pennsylvania Senate, including authoring Senate Bill 690, which would allow registered, unaffiliated voters to vote in primary elections.
We have more than 934,000 registered unaffiliated voters in Pennsylvania – it's the fastest growing voting bloc not just in Pennsylvania but nationally – with most of them having once been Democrat or Republican registered voters.
While some may ignore what most other states have done and express concern about how allowing that many unaffiliated voters into primary elections could affect our other political parties, I think this will ultimately benefit the parties. Open primaries will produce better candidates capable of speaking to broader portions of the electorate.
That in turn is good for all of us as it will help to de-polarize our politics which are increasingly hamstrung by partisan gridlock caused by the more extreme ends of the political spectrum.
Thank you to all those who participated in the survey.
New Survey: Paper Ballots or Electronic Ballots at Your Voting Precinct?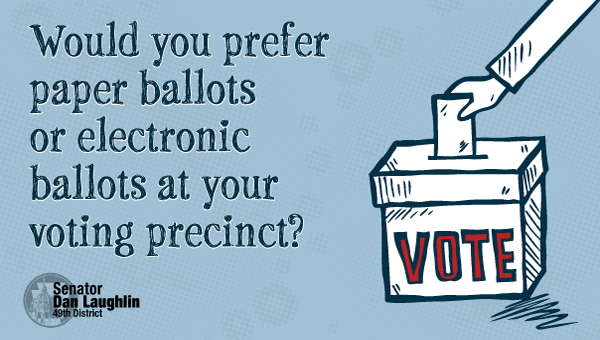 You can answer the survey question here.
Senate Approves Measures to Help Women at High Risk of Breast Cancer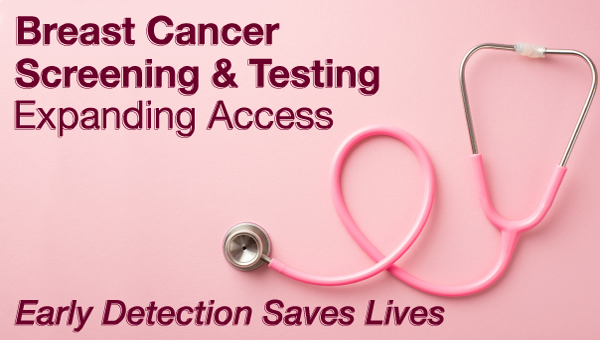 The Senate this week passed two bills to help women at high risk for breast cancer, ensuring coverage for MRIs, ultrasounds and genetic testing with no out-of-pocket costs.
Breast cancer is the second-most common cancer in women in the United States after skin cancers, and early detection is the key to saving lives. The Senate approved the following bills:
Senate Bill 1225 eliminates out-of-pocket costs for breast MRI and ultrasound for women with high-risk conditions such as dense breast tissue, a family history of breast cancer, personal history of breast cancer, genetic predisposition or prior radiation therapy.
Senate Bill 1330 removes costs associated with genetic testing and counseling for Pennsylvanians with a family history of breast and ovarian cancers. Genetic testing for heredity cancers provides the opportunity for earlier screenings and preventive treatments and procedures.
At a news conference celebrating passage of the bills, PA Breast Cancer Coalition President Pat Halpin-Murphy said: "Senate Bill 1225 and Senate Bill 1330 will arm the women of Pennsylvania with the best tools possible to find breast cancer at its earliest, most treatable stage."
Other Bills Passed by the Senate this Week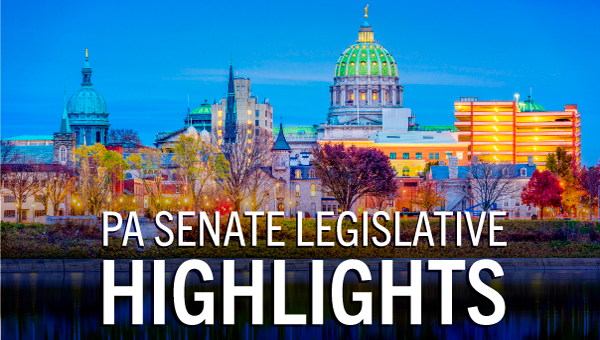 In addition to bills expanding coverage for breast cancer prevention, the Senate approved the following measures this week:
Senate Bill 1243 improves personal financial literacy by requiring completion of a half-credit economics and personal finance course as a high school graduation requirement.
Senate Bill 139 directs the Department of Education to establish a model curriculum for instruction in the events and significance of Sept. 11, 2001 and provides for a moment of silence in schools on 9/11.
Senate Bill 1265 creates an online registry of fire courses for firefighters similar to what is maintained for medical responders, EMTs and paramedics.
Senate Bill 1282 grants land banks the same environmental protections other economic development agencies receive when dealing with brownfields.
You can find a list of all bills that received votes in the Senate this week here.
Senate Committee Reviews Legislation to Empower Parents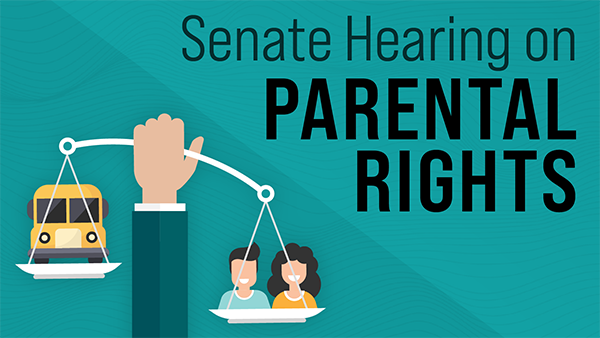 The Senate State Government Committee held a public hearing Tuesday on legislation to establish by state statute the rights of parents over the upbringing of their children.
The hearing featured testimony from Pennsylvania parents and parental rights advocacy groups. Testifiers discussed the importance of the parent-child bond, the impact of the COVID-19 pandemic on learning, and the inability of parents to remove inappropriate material from Pennsylvania schools.
Senate Bill 996 would make clear in statute that the state, counties, local governments and school districts may not infringe on the fundamental rights of parents to direct the upbringing, education, health care and mental health of their children without demonstrating that such action is reasonable and necessary to achieve a compelling state interest — narrowly tailored – and not otherwise achieved by less restrictive means.
The legislation would also ensure a parent's right to access and review all school records related to their child, a right to review all instructional materials used throughout the school year, and the right to opt out their child from certain curriculum that the parent finds to be objectionable or harmful.
Earlier this year, the Senate approved legislation to require school districts to identify sexually explicit content in school curriculum and materials and notify parents that their child's coursework includes such content, and prohibit classroom instruction on gender identity and sexual orientation for pre-kindergarten through fifth-grade students.
HARP Helps Hospitality Workers in Need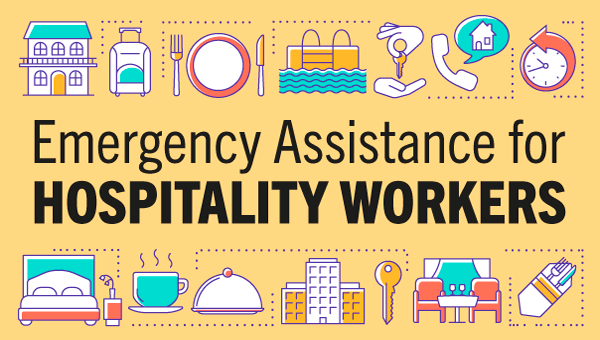 Hospitality Assistance Response of PA (HARP) provides immediate, emergency funding to servers, bartenders, front-desk workers, housekeepers, receptionists, cashiers, cooks and others in need in the hospitality field.
HARP is a 501(c)(3) funded by private donations and can help with medical bills or general hardship and provide immediate relief to hospitality employees experiencing a variety of other financial challenges. Grants are awarded on a first-come, first-served basis and subject to availability of funds.
If you want to donate or know a hospitality worker who needs help, you can find information here.
Cultural and Historical Support Grants Available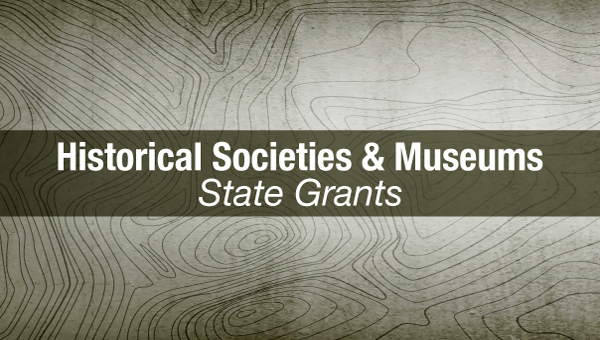 Applications are being accepted from qualified museums and official county historical societies for nearly $2 million in state Cultural and Historical Support Grants.
Among other uses, the grants can supply general operating support to museums and official county historical societies that are not supported by other state agency funding programs. Eligible museums must have annual operating budgets exceeding $100,000 and at least one full-time professional staff person (some museums are not eligible if they are eligible for grant support from other state agencies).
The Pennsylvania Historical & Museum Commission has eligibility information and grant guidelines. The deadline to apply is Nov. 7.
Domestic Violence Awareness Month

No one should have to tolerate domestic violence, and help is available for anyone experiencing it.
National Domestic Violence Hotline
1-800-799-7233 (SAFE)
1-800-787-3224 (TTY for the Deaf)
The Guide to Victim's Assistance features resources available to victims after abuse, neglect, financial exploitation or other crimes such as domestic violence, sexual assault, simple and aggravated assault, harassment, theft and homicide.