Harrisburg Happenings
A report on the Legislative Session Week of April 19, 2021
Dear Friend,
I am pleased to send you my Session Wrap Up e-newsletter. This e-newsletter features events and legislative activities during the Session Week of April 19, 2021.
If you find this e-newsletter useful, I invite you to visit my website www.senatorlaughlin.com for more information about your state government. If you do not wish to receive these e-newsletters, please click the "unsubscribe" button at the bottom of the page. If you would like to contact my office, please go to my web page and click the "contact" button. Please do not "reply" directly to this e-mail.
Sincerely,
Dan Laughlin
---
Senate Approves Bill Requiring Drivers Clear Snow/Ice from Vehicles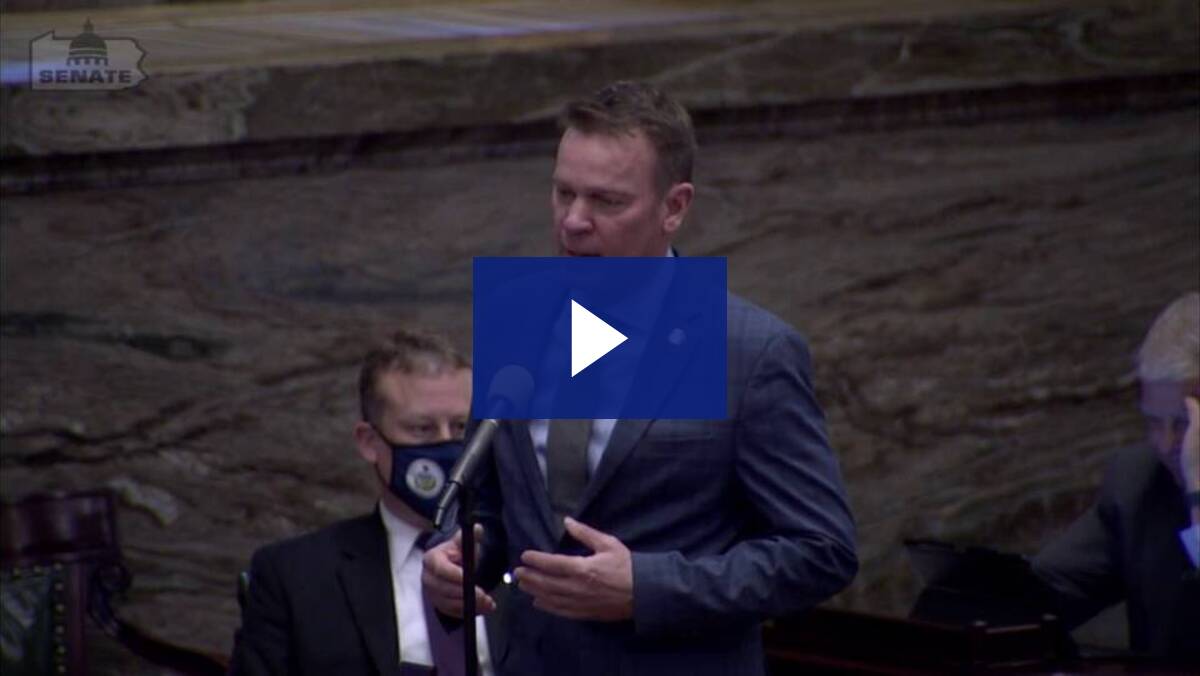 The Senate approved a measure on Wednesday that would require drivers to remove ice and snow from their vehicles. Senate Bill 114 now goes to the House of Representatives for consideration.
An 18-inch thick slab of snow and ice blown from the top of an SUV is bad enough, but just imagine an iceberg of that same thickness coming off the top of a semi as it barrels along an interstate highway. That negligence – regardless of the size of vehicle — is simply unforgiveable – especially if it results in a tragic accident. That's why I co-sponsored this bill.
The current law only penalizes a driver when serious bodily harm occurs from a snow or ice projectile. Senate Bill 114 would give police officers discretion to pull over a vehicle where the buildup of ice or snow poses a potential hazard.
Audio of my comments on the floor of the Senate on Senate Bill 114.
Roundtable Discussion on Adult Use of Marijuana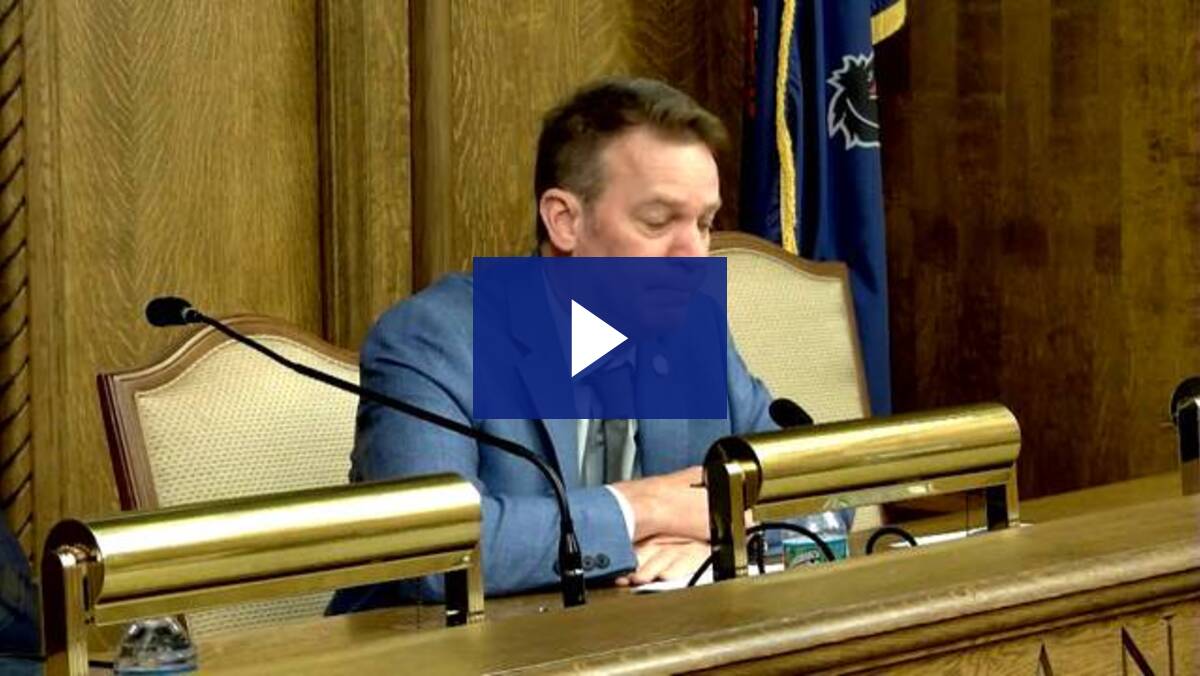 I joined with my colleague Senator Sharif Street (D-Philadelphia) on Tuesday for an online roundtable discussion on adult use marijuana with members of Perfectly Normal. We answered questions from cannabis advocates in person and virtually during the roundtable about our legislation to legalize the use of marijuana by adults.
Family Care Act Bill Reintroduced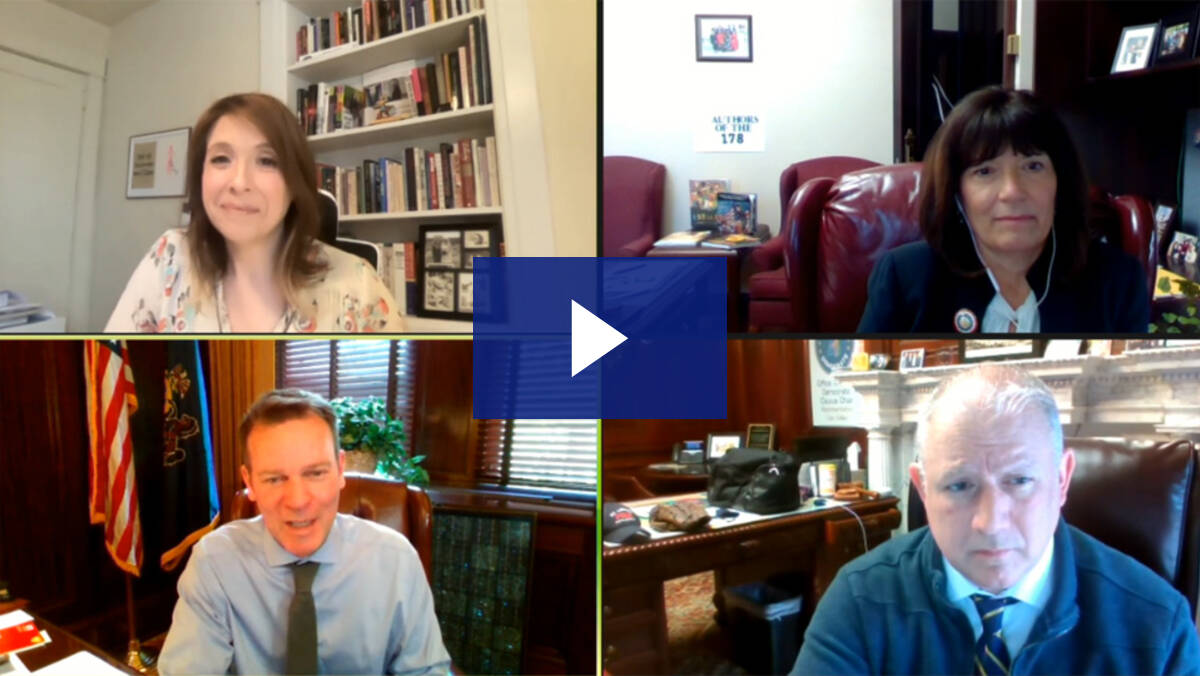 I joined with my colleagues Senator Maria Collett (D-Bucks/Montgomery), Representative Wendi Thomas (R-Bucks) and Representative Dan Miller (D-Allegheny), for a virtual press conference on Wednesday to announce the reintroduction of the bipartisan, bicameral Family Care Act for the 2021-22 Legislative Session.
Senators Discuss What a "Yes" Vote on May 18 Means for Pennsylvania
A group of Senators held a press conference on Tuesday to discuss what a "YES" vote on the May 18 ballot questions means and the need to protect lives and livelihoods while restoring critical checks and balances in Harrisburg. Video
Four Bills Receive Final Legislative Approval
Four bills received final legislative approval and were sent to the Governor's desk.
House Bill 14 amends the Pennsylvania Constitution to create a two-year window for retroactive lawsuits from victims whose statute of limitations has already expired.
Senate Bill 49 designates a bridge in Johnstown, Cambria County, as the Reverend Andrew William Tilly, Jr., Bridge.
Senate Bill 55 designates a bridge in Croyle Township, Cambria County, as the Private Fredrick Kinley Memorial Bridge.
House Bill 766 changes the due date of corporate tax returns from 30 days after the due date of the federal return to the 15th day of the month following the due date of the federal return.
Senate Votes to Protects Teachers' Rights
The Senate approved a bill on Monday to repeal a portion of the state's school code that prohibits teachers from wearing religious items. Senate Bill 247, which repeals Section 1112 of the Public School Code of 1949, was sent to the House of Representatives for consideration.
Pennsylvania is the last state in the United States with this provision still in place. In 2003, the federal courts held that the school's religious affiliations policy violates the free exercise of religion and free speech clauses of the First Amendment to the U.S. Constitution after a teacher was suspended for refusing to remove or conceal a small cross necklace.
The bill now goes to the House of Representatives for consideration. Other bills approved by the Senate this week include:
House Bill 203, which creates the Living Donor Protection Act.
Senate Bill 248, which designates March 6 as Persian Gulf War Veterans Day and October 7 as Global War on Terrorism Veterans Day.
Senate Bill 282, which designates a bridge in Jackson Township, Cambria County, as the Sgt. Harry Lewis Amigh Memorial Bridge.
Senate Bill 317, which provides for the authority to prescribe or personally furnish antibiotics to treat sexually transmitted infections without having examined the individual for whom the drug is intended.
Senate Bill 381, which makes permanent a temporary program providing for substitute teachers.
Senate Bill 420, which addresses instances where a District Attorney's law license is suspended, or they are disbarred.
Committee Roundup
Appropriations
In addition to Senate Bill 114, House Bill 203, Senate Bill 248, Senate Bill 317 and Senate Bill 381, the Senate Appropriations Committee approved five bills on Monday. Video
Senate Bill 83 creates grants to establish fire training programs for high school students.
Senate Bill 108 dedicates additional Medicaid funding for ventilator and tracheostomy services.
House Bill 110 changes the composition and terms of membership of the Hardwoods Development Council.
Senate Bill 190 allows for Designated Essential Family Caregivers in long-term care facilities.
Senate Bill 457 amends the state Constitution to require the Attorney General to have an active law license.
The Appropriations Committee approved House Bill 766 on Tuesday. Video
Banking & Insurance
The Senate Banking & Insurance Committee approved two bills on Monday. Video
Senate Bill 425 amends the Mcare Act to provide for informed consent.
Senate Bill 432 strengthens the independence of the Banking Fund and ensures a strong dual banking system in the Commonwealth.
Communications & Technology
The Senate Communications & Technology Committee approved two bills on Tuesday. Video
Senate Bill 341 addresses regulations applicable to landline telephone companies to facilitate the deployment of broadband services in rural areas.
Senate Bill 442 directs the Department of General Services to include information on the possible use of such assets for fixed or mobile broadband services in its surveys and inventories of Commonwealth properties.
Education
Education officials and advocates discussed school reforms involving accountability for all schools, school choice, charter schools and other potential changes during a Senate Education Committee hearing on Monday. Video
Finance
The Senate Finance Committee approved four bills on Monday. Video
Senate Bill 454 provides for a volunteer firefighter tax credit of up to $500 for those with at least two full years of service and who have responded to at least 20 percent of their company's emergency calls.
Senate Bill 463 provides for an exemption on equipment used in the construction and operation of computer data centers.
Senate Bill 562 creates the Airport Land Development Zone program to incentivize development on vacant land and buildings owned by airports and leased to private businesses.
House Bill 766 changes the due date of corporate tax returns from 30 days after the due date of the federal return to the 15th day of the month following the due date of the federal return.
Judiciary
The Senate Judiciary Committee approved three bills on Wednesday. Video
House Bill 184 provides for enhanced penalties for causing or aiding suicide when the individual who dies by suicide is under the age of 18 or has an intellectual disability or autism spectrum disorder.
Senate Bill 521 criminalizes the act of "upskirting."
House Bill 951 addresses the statute of limitations for childhood sexual abuse cases.
Rules & Executive Nominations
The Senate Rules & Executive Nominations Committee approved Senate Resolution 90 on Monday. Video The Resolution extends the emergency temporary rules adopted to maintain continuity of operations of the Senate during the COVID-19 disaster emergency until May 31, 2021, or 10 days following the expiration of the emergency declaration, whichever is earlier. The Resolution was subsequently adopted by the full Senate on Monday.
The Rules Committee approved Senate Resolution 29 on Tuesday. Video The Resolution, which sets a temporary rule of the Senate for amendments to supplements to the state budget, was adopted by the full Senate on Wednesday.
Special Committee on Election Integrity and Reform
The Senate Special Committee on Election Integrity and Reform held a public hearing on Tuesday on the administration of elections in Allegheny and Philadelphia counties. Video
Transportation
The Senate Transportation Committee approved six bills on Tuesday. Video
Senate Resolution 53 directs the Legislative Budget and Finance Committee to study PENNDOT's highway maintenance funding formula.
House Bill 26 designates a bridge in Pine Creek Township, Clinton County, as the Tech. Corporal Lee R. Phillips Memorial Bridge.
House Bill 56 designates a bridge in Northern Cambria Borough, Cambria County, as the Sergeant William Stock Memorial Bridge.
House Bill 124 designates a bridge in the City of Johnstown, Cambria County, as the City of Johnstown Firefighters Memorial Bridge.
Senate Bill 283 requires PENNDOT to maintain all surface and subsurface drainage facilities connected with the state highways within boroughs and incorporated towns with populations equal to or less than 2,500 people.
Senate Bill 445 provides for donations to the Pennsylvania Breast Cancer Coalition when renewing a vehicle registration or driver's license.
Senate Appropriations Committee Budget Hearings
The Senate Appropriations Committee held two days of public hearings, Wednesday, April 21, and Thursday, April 22, on the Governor's proposed Fiscal Year 2021-22 budget.
Wednesday, April 21, 2021
Department of Transportation
During the budget hearing with the Department of Transportation, I asked Secretary Yassmin Gramian why PENNDOT doesn't build road to last, rather than using cheaper patching methods that don't stand up to time and traffic.
Other Committee members took strong issue with PENNDOT regarding its P3 bridge tolling initiative, which will charge drivers for using nine bridges throughout the state. Noting a lack of engagement and transparency, they pointed out that some contracts were awarded prior to the P3 resolution being adopted, indicating that decisions were being made before the Legislature had an opportunity to weigh in.
Senators also raised concerns about how PennDOT's large revenue increase, given the amount of funding that is now sitting unused in many programs.
Video of the hearing.
Thursday, April 22, 2021
Department of Health
I asked Acting Health Secretary Allison Beam about opening Pennsylvania up fully, given the expanding rollout of COVID-19 vaccines. I also asked about the Department's requested $3 million increase for the Medical Marijuana Program.
Other Committee members stressed the need to plan for future public health emergencies and the importance of a strong economy to fund those efforts. Committee members also stressed to Acting Secretary Allison Beam the need for the Wolf Administration to collaborate with elected lawmakers on pandemic response and other public health issues.
Video of the hearing.
Budget Secretary/Governor's Executive Office/Dept. of General Services
Budget Secretary Jen Swails and Department of General Services Secretary Curtis Topper said the COVID pandemic has significantly changed state government, particularly regarding the workforce as a substantial number of employees have worked remotely since last March.
Secretary Topper said July 5 is the target date for most state employees to return to working onsite. Secretary Topper was asked about the PPE stored at the Farm Show — and the barring of state Representatives from inspecting the facility. The installation of solar panels in Pennsylvania, particularly on agricultural land, was also discussed. Secretary Topper was also questioned about broadband expansion into unserved and underserved areas.
Secretary Swails confirmed that one-third of all Pennsylvania taxpayers, including many small business owners, would carry the full burden of the Governor's proposed 46 percent increase in the personal income tax rate. Senators cautioned that the increase, if imposed, would lead to job losses and business closures. Secretary Swails said the Administration is reviewing revenue projections to determine changes since the Governor's budget proposal was unveiled in February.
Video of the hearing.