Harrisburg Happenings
A report on the Legislative Session from the week of April 8, 2019
Dear Friend,
I am pleased to send you my Session Wrap Up e-newsletter. This e-newsletter features events and legislative activities during the Session Week of April 8, 2019.
If you find this e-newsletter useful, I invite you to visit my website www.senatorlaughlin.com for more information about your state government. If you do not wish to receive these e-newsletters, please click the "unsubscribe" button at the bottom of the page. If you would like to contact my office, please go to my web page and click the "contact" button. Please do not "reply" directly to this e-mail.
Sincerely,
Dan Laughlin

My Bill Included in Crime Victim Legislation Approved by Senate
Legislation that I introduced was included in a package of bills approved by the Senate this week to provide stronger protections for crime victims and ensure they have more opportunities to participate in the judicial process.
My bill, Senate Bill 469, would extend Pennsylvania's existing Tender Years Hearsay Exception for court testimony to those with intellectual disabilities or autism. While hearsay evidence is usually prohibited in a criminal trial, the "tender years exception" allows for a statement made by a child under age 12 to some other person to become admissible against a defendant. Audio of my floor remarks.
Under my measure, statements from a victim who is intellectually disabled or autistic would be admissible in court provided that: the evidence is relevant; the content and circumstances of the statement provide sufficient signs of reliability; and, the victim is otherwise not able to testify in person. According to the U.S. Department of Justice, people with intellectual disabilities are sexually assaulted at a rate seven times higher than people without disabilities.
In fact, predators are more likely to target people with disabilities or severe autism because they know these victims can be easier to manipulate or may have difficulty testifying later. These victims should not be made to suffer more because they cannot necessarily communicate effectively in court. If they have made statements outside of court that are deemed by a judge to be reliable, then these statements should be admissible in court.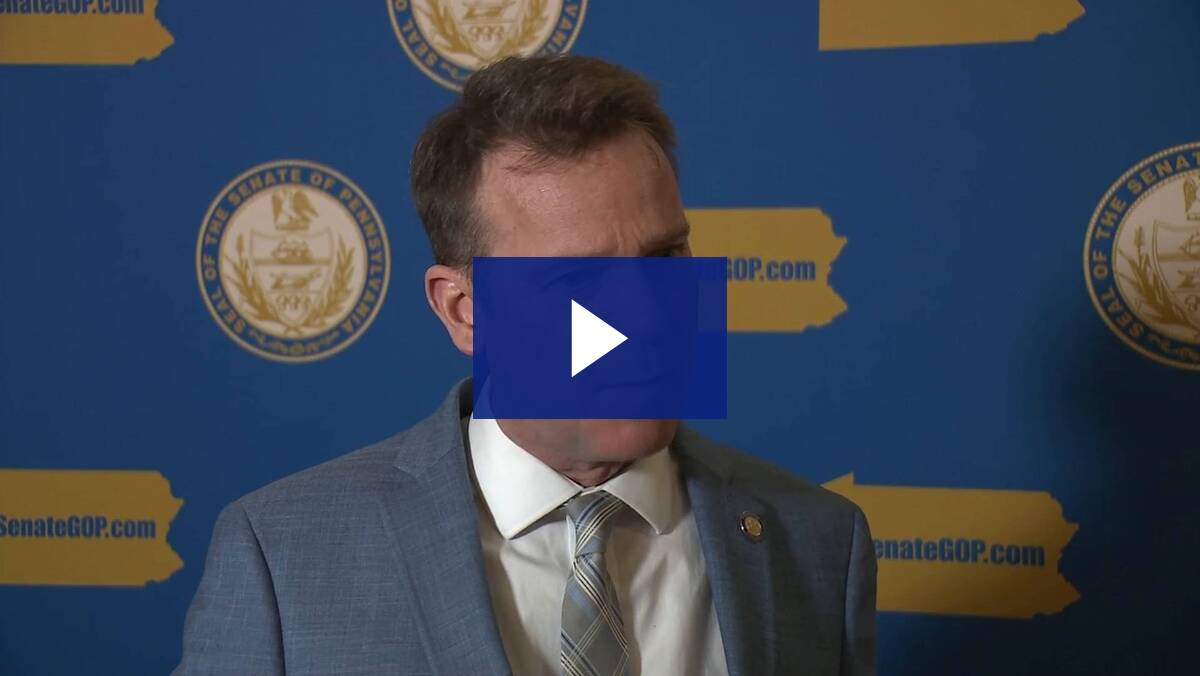 The package of bills also includes measures to give crime victims more rights to attend criminal trials; provides hearsay exceptions for statements made by young witnesses of cases of sexual assault; and shields rape victims against irrelevant cross examinations.
Nearly 16 million Americans were victimized by crime in 2016, 5.7 million of whom were victims of violent crime.
The package includes:
Senate Resolution 68, which designates the week of April 8-14 as "Crime Victims' Rights Week."
Senate Bill 399, which provides for a comprehensive bill of rights for survivors of sexual assault.
Senate Bill 425, which amends Pennsylvania's Crime Victims Act to allow victims to attend the entirety of criminal trials.
Senate Bill 431, which shields rape victims from irrelevant cross examination.
Senate Bill 479, which would expand the Tender Years Exception to apply to a wider variety of crimes, including serious sexual offenses. This exception currently only applies in cases of homicide, assault, kidnapping, burglary, robbery, and a narrow number of sexual offenses.
The bills were sent to the House of Representatives for consideration.
Senate Marks "Osteopathic Medicine Week"
The Senate adopted a Resolution on Tuesday recognizing the week of April 14 through 20, 2019, as "Osteopathic Medicine Week" in Pennsylvania. Audio
Osteopathic Medicine Week focuses on increasing public awareness on the important role that providers play in improving the lives of thousands of patients across the Commonwealth and the nation. Osteopathic physicians are fully licensed to prescribe medicine and practice in all specialty areas of medicine, including surgery.
Pennsylvania benefits from the education of osteopathic medical students at the Lake Erie College of Osteopathic Medicine, the Lake Erie College of Osteopathic Medicine at Seton Hill and the Philadelphia College of Osteopathic Medicine.
There are more than 145,000 osteopathic physicians and osteopathic medical students in the United States and more than 8,500 doctors of osteopathic medicine here in this Pennsylvania.
Senate Approves Measure to Help Homebound Students
Students who face an extended absence from school due to injury or illness could continue to participate in classroom activities and learning under a bill approved by the Senate on Tuesday.
Senate Bill 144, which creates the Keystone Telepresence Education Grant program, now goes to the House of Representatives for consideration.
The grant program would help Intermediate Units purchase equipment that will allow homebound students to participate in normal classroom learning, schoolwork and activities remotely through the use of telepresence technology.
The grant program would be administered by the Pennsylvania Department of Education. Funding would come from any undistributed money that is not already committed to other projects, so it would not create a new burden on taxpayers.
Two additional bills approved by the Senate and sent to the House this week.
Senate Bill 372 updates the state History Code.
Senate Bill 441 designates the State Route 2087 bridge over the East Branch Codorus Creek in York County as the Sgt. Christopher M. Wrinkle and Tosca Memorial Bridge.
Two Bills Sent to Governor for Enactment into Law
Two bills received final legislative approval and were sent to the Governor for enactment into law this week.
House Bill 18 authorizes the release of Project 70 restrictions on lands owned by the Borough of Topton, Berks County, in exchange for the imposition of the restrictions on other lands to be acquired by the borough. The bill also provides for land conveyances in Chester, Lehigh and Monroe counties.
House Bill 264 adds fiscal procedures for the collection of monies by municipal authorities.
Committee Roundup
Appropriations
The Senate Appropriations Committee approved eight bills on Monday.
Senate Bill 133 amends the State Constitution to allow gubernatorial candidates to select their running mate.
Senate Bill 144 creates the Keystone Telepresence Education Grant program.
Senate Bill 145 amends the Agricultural Area Security Law to allow for the voluntary relinquishment of the right to construct a residence.
House Bill 264 adds fiscal procedures for the collection of monies by municipal authorities.
House Bill 275 changes the name of the "Early Intervention Program" under the Municipalities Financial Recovery Act to the "Strategic Management Planning Program."
Senate Bill 399 provides for a comprehensive bill of rights for survivors of sexual assault.
Senate Bill 469 addresses testimony by those with intellectual disabilities or autism.
Senate Bill 479 expands the Tender Years Exception for out-of-court statements to include additional serious sexual offenses.
Health & Human Services
The Senate Health & Human Services Committee approved Senate Bill 390 on Wednesday. The bill delays implementation of Medical Assistance Transportation Program pending a Department of Human Services review.
Labor & Industry
The Senate Labor & Industry Committee approved two bills on Tuesday.
Senate Bill 304 protects the unemployment compensation rights of spouses of active duty members of the armed forces.
Senate Bill 453 provides an exemption from the Uniform Construction Code (UCC) for barns and other structures that are occasionally used for weddings or special events if certain requirements are satisfied.
State Government
The Senate State Government Committee approved three bills on Tuesday.
Senate Bill 22 amends the state Constitution to create a commission to draw election maps.
Senate Bill 48 delays the impending mass decertification of current voting machines until an appropriate plan between the Governor and the General Assembly and the method by which it will be paid for can be agreed to.
Senate Bill 178 requires the electronic filing of campaign finance reports with the Department of State.
Transportation
The Senate Transportation Committee approved two bills on Wednesday.
Senate Bill 131 prohibits novice drivers (16 and 17 years old) from using cell phones while driving.
House Bill 384 increases the fine for driving a vehicle without the proper endorsement for that particular type of vehicle.