Dear Friend,
I am pleased to present my electronic newsletter. These e-newsletters enable me to provide information about issues, events and activities in Harrisburg and around the 49th Senatorial District to you in a timely manner while saving postage costs.
If you find this e-newsletter useful, I invite you to visit my website www.senatorlaughlin.com for more information about your state government. If you do not wish to receive these e-newsletters, please click the "unsubscribe" button at the bottom of the page.
Sincerely,
Dan
---
Erie Community Must Unite to Protect and Preserve Presque Isle
As a young child, I always looked forward to visiting Presque Isle during summer vacation. I loved the beaches and enjoyed playing in the water and sand. As I grew up, I came to appreciate the beauty of the park including the colorful sunsets. Like most folks from Erie, I take for granted that we experience some of the most beautiful sunsets in the world.
That all changed in 1992 when the Army Corps of Engineers decided to "fix" Presque Isle. Their stated goal was to protect the peninsula and to reduce the need for annual sand replenishment. There was a lot of controversy over the breakwaters being unsightly, but the Corps insisted it would help reduce the cost of annual beach replenishment. While the Corps of Engineers' goals were admirable, they have been achieved in a less than desirable way.
The existing 55 stone breakwaters, while they provide some protection for our beaches, are considered by most people to be dangerous eyesores that have carved the peninsula into a jagged saw tooth formation and essentially ruined one of the most beautiful parks in all of Pennsylvania. No longer can you sit on the beach and watch the sunset over an uninterrupted horizon of water. The view is now marred by unsightly breakwaters. Annually, five million visitors come to our park, many to watch the world-renowned sunsets. It is a shame that the breakwaters lend more of a military- installation rather than a state-park atmosphere to this natural spectacle.
In a recent meeting with two representatives from the Army Corps of Engineers and Matt Greene from Presque Isle State Park, I learned that in the Corps' opinion, the exposed breakwaters are a great engineering success. I disagreed and pointed out that safely-submerged breakwaters could protect our park and, at the same time, provide a smoother, less obtrusive appearance.
So, what is the next step? I don't have the authority to order the Army Corp to do computer modeling on the submerged-breakwaters, but I have contacted the costal engineering programs at Texas A&M and Old Dominion. I have asked if any of their graduate students would be willing to take this on as a master's thesis. As we wait to see how this all plays out, we will be seeking public input as well.
I have participated in a number of meetings regarding Presque Isle and have found that if you just talk to people, you can come up with a number of great "outside the box" ideas. One of the local business owners I spoke with suggested that we dredge parts of the channel where the sand naturally accumulates to replenish the beaches. This would keep the beaches looking pristine at a tenth of the cost. I think most locals remember the "dirty" sand trucked in from Fairview – it was basically bank gravel. This dredging and replacement would avoid having to use this type of sand. I urge local residents to contact me to let me know any other ideas they may have. Together we can fix this issue in a cost-effective manner.
We may also have an ally in this effort with state Conservation and Natural Resources Secretary Cindy Dunn who, in her role as Secretary, oversees operations at all of Pennsylvania's state parks, including Presque Isle. In my initial meeting with Secretary Dunn, she seemed interested in this project and agreed that the breakwaters are unsightly.
I know full well that this will be a long, uphill battle that I may lose, but I view returning Presque Isle State Park to its former beauty as a worthy and necessary battle.
New License Plate Honors National Guard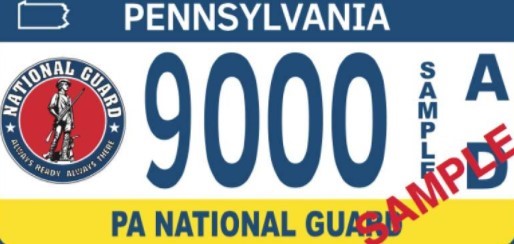 I am pleased to report that the Pennsylvania Department of Transportation recently unveiled a new license plate to honor and recognize the men and women serving in our National Guard.
Act 108 of 2016 authorized PENNDOT to issue license plates for members of the United States Armed Forces including reserves and the Pennsylvania National Guard in addition to the wide array of specialty motor vehicle license plates that honor veterans and those who were recognized for meritorious service.
Click here for more information about all of the specialty plates available for veterans and active duty personnel.
Deadline for Persian Gulf Veterans' Bonus Approaching
The deadline for Pennsylvanians who served in the Persian Gulf Theater of Operations — including Operations Desert Shield and Desert Storm — to apply for the Persian Gulf Conflict Veterans' Bonus is approaching.
The bonus program was originally set to expire in 2015 before the enactment of Act 50 of 2015, a measure that extended the application period to August, 31 2018.
The bonus pays $75 per month for qualifying, active-duty service members, up to a $525 maximum. For personnel whose death was related to illness or injury received in the line of duty in Operations Desert Shield or Desert Storm, there is an additional $5,000 available to the surviving family. Service members who were declared prisoners of war may also be eligible for an additional $5,000.
Approximately 9,500 Persian Gulf veterans have applied for the one-time cash bonus program since the Department of Military and Veterans Affairs (DMVA) began accepting applications in 2008. The DMVA is encouraging veterans who were previously denied the bonus to reapply to have their claims reviewed again.
Applications and more information are available online at www.persiangulfbonus.state.pa.us.
Pennsylvania's Unemployment Rate Held at 4.8 Percent in February
Pennsylvania's unemployment rate for February was unchanged from January at 4.8 percent, according to the Pennsylvania Department of Labor & Industry. The Commonwealth's rate remained above the United States' rate of 4.1 percent, which was also unchanged in January from the previous month.
The estimated number of Pennsylvania residents working or looking for work, known as the civilian labor force, was down 3,000 over the month to 6,411,000. Resident unemployment held steady at 310,000. In the past twelve months, employment and unemployment were down by 11,000 and 21,000, respectively.
More information is available by clicking here.
REAL ID Online Pre-Verification Now Available for Eligible Customers
PENNDOT is now offering an online application for REAL ID pre-verification for customers who are interested in obtaining a REAL ID and obtained their first driver's license or photo ID card after September 2003. The pre-verification will reduce the time and paperwork needed to receive a Pennsylvania REAL ID when they become available in Spring 2019.
REAL ID is optional for Pennsylvania residents. A federally accepted form of identification — a Pennsylvania REAL ID driver's license or ID card, a U.S. Passport/Passport Card or a military ID, etc. — will be required to board a commercial flight or visit a secure federal building beginning October 1, 2020.
More information is available by clicking here or calling PENNDOT's Customer Call Center at (717) 412-5300.