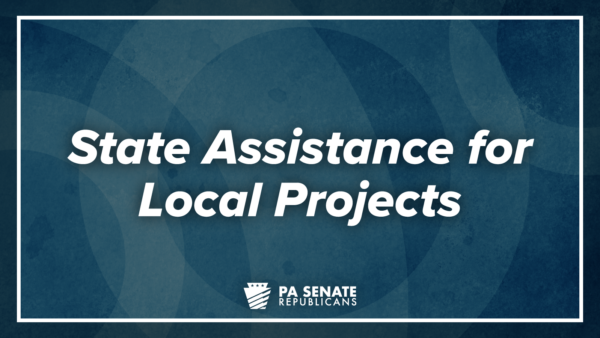 HARRISBURG – Sen. Dan Laughlin (R-49) announced that more than $8 million has been awarded by the Commonwealth Financing Authority (CFA) to 16 Erie County infrastructure projects.
Nearly half the total grants awarded went to projects in Erie City, with one of the largest of those being improvements to the disinfection system of the Erie wastewater treatment plant. The $1 million grant will be used to rehabilitate the plant's chlorine gas disinfection system.
Other grants approved for Erie City include:
$1,000,000 to resurface a portion of State Street as part of an effort to improve the roadway for traffic, pedestrians and cyclists;
$1,000,000 for a complete street reconstruction on East Lake Road from East Avenue to Brandes Street;
$500,000 (from the Multimodal Transportation Fund) to install four traffic lights along State Street;
$325,000 to purchase a new vehicle for use by the Erie Bomb Squad; and
$142,234 to purchase a new vehicle for the City of Erie Fire Department Dive Team.
Additionally, a $1 million grant will be used by the Erie City Water Authority for a water system expansion and consolidation project located in Greene Township.
Fairview Township Sewer Authority was awarded $996,260 to install sewer lines along Canal Street, Rupert Drive, Lakeview Avenue and Jacob Lane in Fairview Township.
Lake City Borough was awarded a grant for $986,310 to upgrade and replace almost 3,000 linear feet of cast iron waterlines with PVC waterlines.
A $350,000 grant was awarded to the Municipal Authority of the Borough of Union City for water distribution system rehabilitation in the Borough of Union City.
Albion Borough's request, on behalf of Albion Area Public Library, for funds to complete restoration of the library received a $335,205 grant.
Two projects located in Edinboro Borough received a combined total of nearly $140,000:
$94,367 for the Edinboro Community and Economic Development Corporation, Inc. to do a streetscape project; and
$89,960 for the renovation the borough community room.
Waterford Borough received a $108,514 grant to purchase a self-contained leaf vacuum for use by the borough.
And a $94,109 grant was awarded to Wesleyville Borough to purchase a new tractor.
"All of this money coming to Erie County municipalities will be used either directly or indirectly to improve the lives of the residents of each of those communities," said Laughlin. "I'm glad to have helped secure this funding for these important projects and purchases."
Unless otherwise noted above, the infrastructure project dollars came from Local Share Account funds, with that funding created by the PA Race Horse Development and Gaming Act (Act 71 of 2004), which provides for the distribution of gaming revenues through the CFA to support projects in the public interest within Pennsylvania.
For more state-related news and information, constituents can visit Laughlin's website at www.senatorlaughlin.com or follow him on Facebook and Twitter @senatorlaughlin.
Contact: David Kozak 717-787-8927