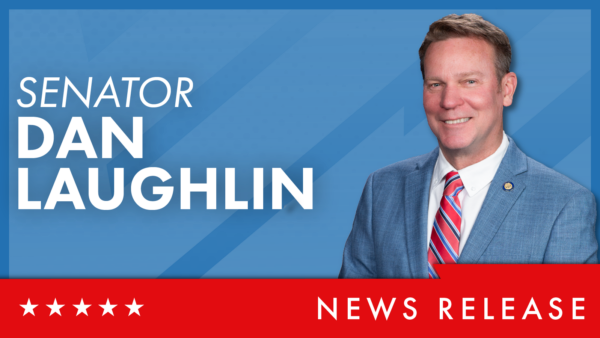 HARRISBURG – State Sen. Dan Laughlin (R-49) today announced that, in addition to serving as the Senate Majority Policy Committee chairman, he has been appointed by Sen. President Pro Tempore Kim Ward (R-39) to serve as vice chairman of the Senate Game and Fisheries Committee for the 2023-24 session that began Tuesday.
"Pennsylvania has a rich history of outdoor recreational activities and I'm excited about continuing to serve on a committee dedicated to protecting and enhancing this aspect of the Commonwealth's heritage," Laughlin said. "In the last six years, I have been and will continue to be committed to standing up and speaking out on behalf of the sportsmen, sportswomen and anglers in our district and across Pennsylvania."
Laughlin also will serve on the Senate Banking and Insurance Committee; Community, Economic and Recreational Development Committee; Labor and Industry Committee; and Rules and Executive Nominations Committee.
The Senate Banking and Insurance Committee oversees the Pennsylvania Department of Banking and Securities and the Pennsylvania Insurance Department. The committee reviews and considers legislation ensuring financial institutions and insurers are compliant with fiscally sound practices and promoting fair and healthy market competition to benefit Pennsylvania businesses and consumers.
The Senate Community, Economic and Recreational Development Committee works with the Pennsylvania Department of Community and Economic Development to advance legislation and enact policies aimed at promoting business investment and growth in the Commonwealth. The committee also oversees the Ben Franklin Technology Development Authority, Commonwealth Financing Authority, Pennsylvania Economic Development Financing Authority, Pennsylvania Gaming Control Board, Pennsylvania Industrial Development Authority and the Pennsylvania Minority Business Development Authority.
The Senate Labor and Industry Committee reviews legislation and oversees programs and policies affecting employers and workers, including the Commonwealth's Workers' Compensation Program, Unemployment Compensation Program, workplace safety regulations, building codes, and workforce training and development initiatives. The committee also oversees the Pennsylvania Department of Labor and Industry, Human Relations Commission, Unemployment Compensation Board of Review and Workers' Compensation Appeal Board.
The Senate Rules and Executive Nominations Committee reviews nominations made by the governor and considers resolutions and legislation returning to the Senate from the state House of Representatives.
More information about Laughlin is available on his website at www.SenatorLaughlin.com or by following him on Facebook at www.Facebook.com/SenatorLaughlin, on Twitter @SenatorLaughlin and on Instagram @SenatorDanLaughlin.
Media Contact: David Kozak
717-787-8927 (office)