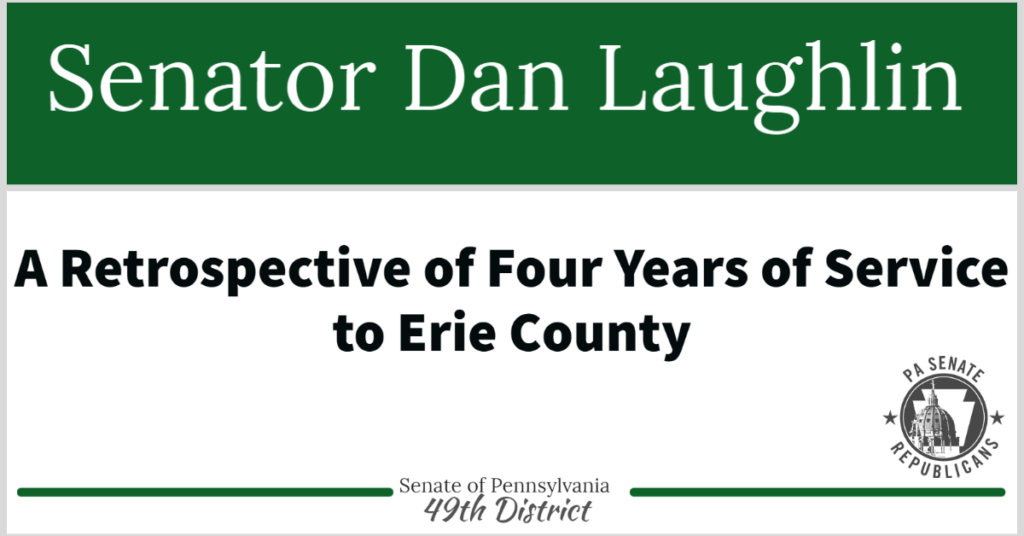 December 2016 – Senator-elect Laughlin announces that — through renegotiations of the terms of the lease — he was able to create a 31 percent reduction in the monthly rent for the district office vacated by former Senator Sean Wiley, which represents a savings to taxpayers of $15,500 a year for the same location.
January 2017 – As one of his first official acts in office, Senator Laughlin calls on Governor Tom Wolf to reverse his moratorium on the expansion of Keystone Opportunity Zones and City Revitalization and Improvement Zones.
January 2017 – Begins efforts to meet with and make site visits where appropriate to local businesses to gain first-hand knowledge of the challenges of operating a business in Pennsylvania.
February 2017 – Meets with school superintendents throughout the district and starts visits to all school systems in the city and county.
March 2017 – the Senate approves Senate Bill 169, a measure introduced by Senator Laughlin, that would require lobbyists to register and file reports electronically through a computerized system developed by the Pennsylvania Department of State. The bill stalls in the House.
April 2017 – Hosts Veterans Expo and Job Fair for former military service members.
July 2017 – at Senator Laughlin's request, the Erie School District is allocated $14 million in Educational Access Program Funding as a one-time, one-year expenditure in the Fiscal Year 2017-18 state budget.
September 2017 – Amid talk of crumbling neighborhoods and financial issues, Senator hosts state senate discussion on blight and community revitalization issues. Roundtable discussion with members of the Senate Majority Policy Committee kicks off neighborhood revitalization.
October 2017 – passage of House Bill 674, an omnibus Fiscal Code bill, locks in the increased funding, secured by Senator Laughlin, for the Erie School District on a recurring, annual basis.
October 2017 – The Senate approves Senate Bill 663, a measure introduced by Senator Laughlin that amends the UCC act to require municipalities to contract with at least three third-party agencies to handle building inspections. The bill stalls in the House.
November 2017 – Joins local elected officials to fight for higher quality "Lake Street" bridge in Girard Township. Railroad intended a redesign to a lower quality, lower cost bridge deemed unacceptable to Girard Borough and its citizens.
January 2018 – After numerous meetings with volunteer firefighters throughout the 49th district, Laughlin floats idea to train low risk prison inmates as firefighters to ease staffing issues and offer rehabilitation and redemption to individuals facing reentry. Initiates discussion with Secretary of Corrections with the goal of creating a pilot project.
February 2018 – Continues discussion and advocacy of CRIZ (City Revitalization Improvement Zone) for Erie, adds backing of Federal Opportunity Zones for the area.
February 2018 – Leads a negotiation and helps broker a deal between Millcreek Township and LECOM Health over senior living center taxes. Agreement helps spur LECOM to remain in the township and continue expansion creating more health care options and jobs.
March 2018 – Begins discussions with Army Corp of Engineers to seek alternatives to breakwalls on Presque Isle. Goal is to find new technology to protect sand while eliminating rock piles to beautify the view.
May 2018 – Senate approved Senate Bill 1031, a measure introduced by Senator Laughlin intended to increase government transparency by requiring the Department of Insurance to detail its spending for outside contractors. The bill stalls in the House.
May 2018 – Fights for expansion of Pre-K education funding.
May 2018 – Hosts annual Military Veterans Expo.
June 2018 – In light of economic development efforts and City of Erie expansion projects, continues his advocacy in Harrisburg for a CRIZ designation for Erie.
June 2018 – Coordinates state agency collaboration to allow unique business to open and operate on the Bay.
June 2018 – State Budget announced with no tax increase. Funding increased for school safety and Pre-K and K through 12 public education.
July 2018 – Advocates for $2 million state grant funding form JMC Ice Arena renovations.
September 2018 – Doubles down on advocacy for Sunday hunting.
October 2018 – Senate Bill 1205, a measure introduced by Senator Laughlin that updates and streamlines reporting requirements for insurance companies in Pennsylvania received final legislative approval and is signed into law as Act 163 of 2018.
October 2018 – Early in his tenure, Laughlin reaches out for unique ideas on economic development. Starts dialogue with Joe Max Higgins, Jr., CEO of Golden Triangle Development Link in rural Mississippi. Higgins had been featured on "60 minutes" and, at the time considered one of the most successful developers in the country. Laughlin visits him along with a group from Erie and then invites him to be keynote speaker at the Pennsylvania Economic Development Association Conference in Erie.
October 2018 – Laughlin suggests unique approach as State Senate considers grand jury report on child sexual abuse. Extend statute of limitations but also create victims' fund.
December 2018 – Having been engaged in the Millcreek Township McKee Road area flooding issue over many months, Senator hosts meeting with state elected officials, township officials and engineers to allow the citizens input and together develop a plan to fix the problem.
December 2018 – Weighs in on Community College Application in light of the already established Northern Pennsylvania Community College. Meets with Senator Scarnati and proposes compromise. Will work towards bricks and mortar NPRC located centrally in Erie County.
January 2019 – Senator Laughlin is appointed to serve as Chairman of the Senate Game & Fisheries Committee.
March 2019 – As a member of the Senate Appropriations Committee, Senator questions DCED Secretary about the viability of a CRIZ in Erie during budget hearings. Vows to continue to advocate for CRIZ designation to assist in economic development.
March 2019 – Co-hosts ceremony to honor Vietnam Veterans along with U.S. Senator Toomey and State Representative Parke Wentling.
March 2019 – Hosts 2019 Veterans Resource and job fair moved to Mercyhurst University and featuring State Adjutant, Major General Anthony Carrelli.
April 2019 – Senators Laughlin and Collett introduce Senate Bill 580, which would establish a statewide Family and Medical Leave Insurance Program.
April 2019 – Continuing efforts toward economic revitalization, Senator tours Federal Opportunity Zone projects and begins crafting enhancing state legislation to help urban revitalization.
April 2019 – Invited to attend the Opportunity Zone Summit in Washington, DC – one of a handful of state elected officials invited to attend and make the case for public funding from the federal level. Erie Times News headline April 17, 2019: "Laughlin leads Erie delegation to White House Opportunity Zones Conference"
April 2019 – Nearly two years of the Senator's intervention on behalf of homeowners and stakeholders, Millcreek Township passes a resolution to address neighborhood flooding near 26th & McKee Road area.
June 2019 – Pushes for changes to the Clean Indoor Air Act of 2008 by introducing legislation to eliminate most indoor smoking exemptions.
June 2019 – Senate Bill 469, Senator Laughlin's measure extending Pennsylvania's existing Tender Years Hearsay Exception for court testimony to those with intellectual disabilities or autism sigis signed into law as Act 30 of 2019,
August 2019 – In light of deadly day care fire in Erie, Senator calls for probe, ultimately introduces smoke detector legislation.
September 2019 – Pledges support of "Jake Schwab" Public Workers Safety Bill named for local EMTA mechanic killed on the job.
September 2019 – A strong supporter of the "Unified Erie" reentry program since its inception, works to effect $250,000 grant to allow the program to continue through GECAC.
October 2019 – Holds public meeting to explain and answer questions on the "Family and Medical Leave Act," the legislation that would allow eligible workers paid leave to care for their own or family health problems.
November 2019 – Senate Bill 147, Senator Laughlin's bill providing for hunting on three Sundays: one during rifle deer season, one during the statewide archery deer season and one on a Sunday determined by the Game Commission receives final legislative approval. The measure is signed into law as Act 107 of 2019.
April 2019 – the Senate approves two bills introduced by Senator Laughlin to improve safety in state-regulated daycare facilities, measures he introduced in response to a tragic fire that claimed the lives of five young children in Erie. Senate Bill 934 requires the Department of Human Services to include the inspection of all smoke detectors in their annual inspection of child care facilities. Senate Bill 935 amends the state Fire and Panic Act regarding smoke detectors.
February 2020 – The Senate Communications and Technology Committee hears testimony from Senator Laughlin, prime sponsor of SB 487, a bill that public agencies to notify individuals whose personally identifiable information has been breached within seven business days of the discovery.
February 2020 – Senator Laughlin's proposal for a pilot program to train inmates as firefighters is formally announced by the Secretary of Corrections. Program begins at SCI Huntingdon.
February 2020 – Hosts grant workshop for municipal leaders.
April 2020 – During the COVID-19 crisis, Senator Laughlin actively pushes for greater action by the Department of Labor & Industry to provide Unemployment Compensation benefits to idled workers. He also calls on the Administration to impose weekly testing at long-term care facilities and to reopen a variety of businesses including marinas, golf courses, zoos, and amusement parks.
June 2020 – The Senate passes Senate Bill 995, a measure introduced by Senator Laughlin to help Pennsylvania's farmers by updating state law regarding multipurpose agriculture vehicles.
June 2020 – Legislation to improve fire safety in family day care settings Senate Bill 934 signed by Governor.
September 2020 – Since the start of the pandemic, Senator Laughlin has helped thousands of individuals obtain their unemployment and PUA benefits.